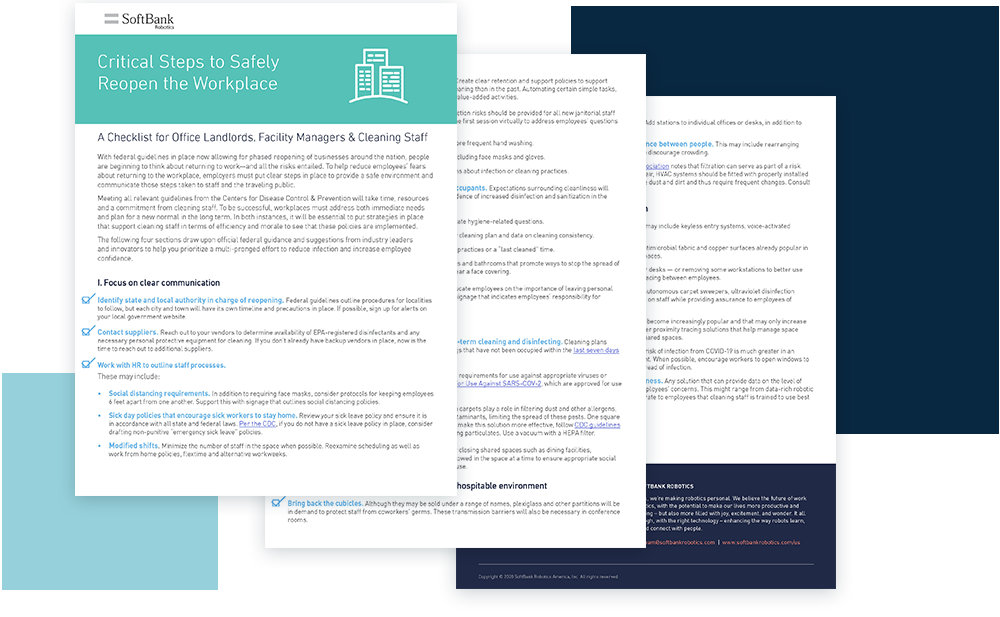 With federal guidelines in place that allow for the phased reopening of businesses, people are beginning to think about returning to work — and the risks that entails.
To help reduce employees' fears about returning to the workplace they will need assurances that their work environment is clean.
We've compiled the ultimate checklist that draws upon official federal guidance and suggestions from industry leaders to help you prioritize efforts to reduce infections and increase employee confidence to return to the workplace.
This comprehensive checklist covers:
Implementing Clear Communication Policies
Identifying which state or local authorities are in charge of reopening, including timelines and precautions
Working with suppliers to determine the availability of critical cleaning supplies
Creating staff procedures for social distancing, sick day policies and the importance of a cleanliness manager
Developing An Intensive Cleaning Plan
CDC guidelines and exceptions for cleaning requirements
Consistently scheduled carpet cleaning
Limiting use of communal office spaces like break rooms
Building Updates To Support Safe Environments
Consider adding cubicles back into workspaces
Where to add sanitation and disinfecting stations
Checking HVAC filters consistently and setting replacement schedules
Modifying common areas to ensure social distancing
Long-Term Cleaning Plans
Adding touchless solutions where possible
Utilizing technology to improve cleaning processes
Rethinking or redesigning office airflow
Adding certifications that confirm cleanliness for employees
To download your copy of this comprehensive checklist, simply complete the form.
Download the Complete Cleaning Checklist Now.