By all accounts, the cleaning industry is booming. The industry overall is expected to grow 6.2 percent to reach $74,299 million by 2022.
With new skyscrapers emerging across the globe, and U.S. building square footage expected to increase 39 percent by 2050, there will be no shortage of cleaning business to go around.
But in spite of the potential for growth, the industry is facing a crisis.
In a world where automation is being leveraged across all industries to drive efficiency and growth, the commercial cleaning industry has failed to keep up with technology needed for the future of cleaning.
Why COMMERCIAL Cleaning Is At a Critical Breaking Point
Cleaning is still an incredibly manual job, devoid of reliable performance metrics, and tied to the availability of labor.
Not only are labor costs rising and uncontrolled -- comprising as much as 70 percent of operating expenses for the majority of commercial cleaners -- but the talent gap is growing too, with most janitorial companies experiencing 200 percent average turnover.
More than any other generation, Millennials expect opportunities to work in digital and technology-related jobs. This makes jobs like cleaning, which historically have failed to provide technical training, harder and harder to fill.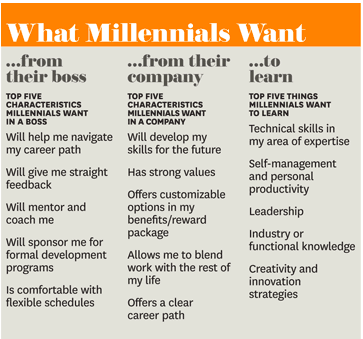 Image source: "Mentoring Millennials," Harvard Business Review
As Millennials become the largest generation in the workforce, recruiting and retention -- which is already a top challenge for commercial cleaning companies -- will only get worse.
Consumers Expect Higher Service Levels at Lower Prices
Workforce problems aren't the only issue facing commercial cleaning companies. Client expectations are increasing too. While this is a problem that many service-based industries are facing, the cleaning industry is feeling the pain in particular.
There's no shortage of choices when it comes to selecting a commercial cleaning company, and with building owners and managers prioritizing tenant expectations above all, it only takes one mistake to lose a client.
Today, janitorial complaints are one of the top three issues cited by office workers. But with the top cleaning companies reporting 1.3 percent margins, and almost 40 percent of commercial cleaners reporting that bids are won on price, providers are expected to increase their service value while racing to the bottom on deals.
With the top priority of clients being an improved facility image followed by a reduction in cleaning costs, the pressure to deliver competitive pricing is at odds with the pressure to deliver a cleaner environment.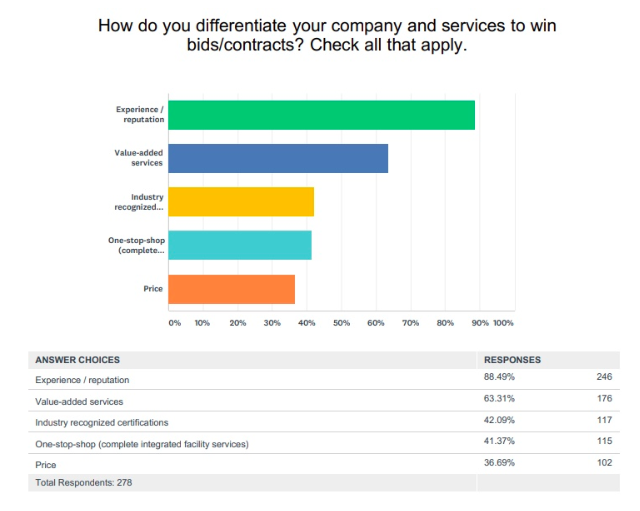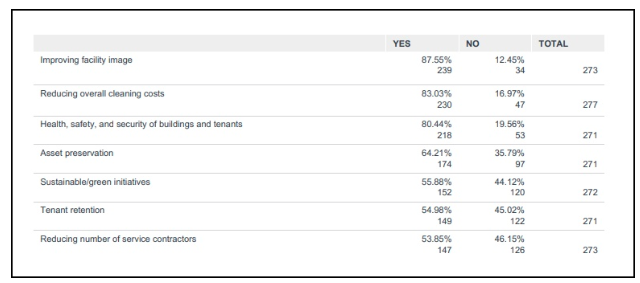 Image source: 2018 BSC/Contract Cleaning Benchmarking Survey, CMM
In an effort to more effectively manage scarce resources, performance-based contracts have grown in popularity. But this subjective approach creates risk for building service providers, because what is considered "clean" can vary from building to building and client to client.
Inefficient performance data fuels this problem. More than 90 percent of commercial cleaners use manual solutions like task lists and observation to evaluate performance; not surprisingly, at least 35 percent of commercial cleaners report that validating cleaning results is a challenge.
Without meaningful data about cleaning performance, there's no way to meaningfully monetize superior cleaning performance. In a highly competitive industry, this is a failed opportunity to differentiate.
How NEW COMMERCIAL CLEANING TECHNOLOGY WILL POWER THE FUTURE OF CLEANING
It's clear -- the cleaning industry requires a fundamental shift in the way it operates in order to survive and thrive. Fortunately, automation is enabling that shift, and allowing the cleaning industry to augment the workforce to drive productivity and performance.
In many industries, automation has already proven itself as a way to go further with existing resources, collect and deliver performance data, standardize mundane and routine tasks, create better jobs, and improve the lives of employees.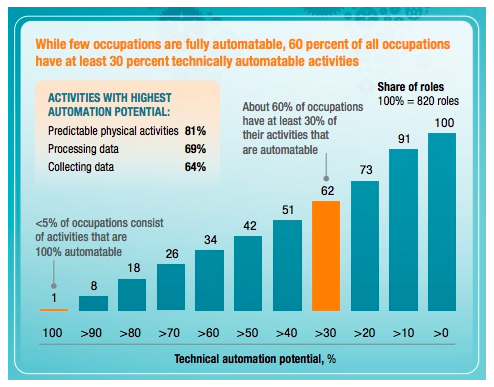 Image source: A Future That Works: Automation, Employment, And Productivity, McKinsey & Company
In an industry that relies almost exclusively on labor, finding the areas where automation can bolster the existing workforce (rather than threaten it) is the opportunity. This asks technology companies to examine how automation can handle repeatable, routine, physical activities like floor care, window washing, or lawn mowing.
In this reimagined way of working, a cleaning company's fleet is comprised of both people and devices. But it's not one or the other -- people make the difficult decisions, devices do the repetitive work. And data helps both sides improve.
With automation, tomorrow's winning cleaning companies will be able to:
Automate manual, redundant work, freeing up staff to take on the more high-value work like high-dusting and windows
Create better jobs for Millennials that incorporate the use of technology, enabling on-the-job opportunities for advancement
Use data to standardize the cleaning process and show performance across properties
Gain competitive advantage by broadening the scope of work, increasing contract size, and winning new clients through proof of performance and innovation
Invest in the Future of CLEANING THROUGH Service Automation
As SoftBank Robotics increases investments in companies like Brain Corp, which powers the technology behind many successful autonomous commercial floor care solutions, we hope to help the cleaning industry prepare for the growth that will only increase the labor challenges, client satisfaction problems and more.
We've recently deployed a new commercial robot vacuum that enables janitorial teams to tackle floor cleaning -- which comprises up to 30 percent of the average commercial cleaning job -- autonomously.
With this automation, SoftBank Robotics hopes to help the cleaning industry create new and more exciting jobs, provide workers with more opportunities for advancement, and start capturing the cleaning performance data more reliably and repeatedly than checklists and human observation.
Request INFORMATION to Learn More
As automation gains traction in the cleaning industry, cleaning professionals will be empowered to make more strategic decisions about how to continuously improve process efficiency, and gain the ability to clean more consistently over time.
To learn more about how automation is driving the cleaning industry forward, contact us here.