Today, we announced that our STREAM Education Initiative, one of our core verticals rooted in our social responsibility program and one-of-a-kind hardware, now introduces a new learning experience.
Tethys is a visual programming tool, created to teach students computer science, robotics, and coding. Using Pepper as a virtual and physical ambassador for STREAM skills, Tethys engages students and empowers future generations to pursue technical careers needed in an automated future.
Tethys is our first standalone software available for purchase, and the newest tool in our education initiative, joining NAO and Pepper. As a robotics company, we find it imperative to help empower the jobs of the future, by encouraging the future workforce to explore education (and ultimately careers) in computer science. Our hardware platforms (Pepper and NAO) have proven to be successful in increasing approachability and accessibility of STEM education to broader audiences, so we wanted to find a way to take even further advantage of that.
We know robots can be hard to come by. That's why Tethys, with an integrated virtual Pepper, is available to any student with a browser. And, that's why our STREAM social responsibility program will pair donations of Pepper the robot from the SoftBank Robotics Group with corporate sponsorship of Tethys licenses.
STREAM is a comprehensive, holistic educational approach that integrates Science, Technology, Robotics, Engineering, Art, and Mathematics into the teaching and learning process - with a particular focus on helping students apply this knowledge to real-world situations. Our blog has more on our approach to STREAM education.
To SBRA, STREAM is the foundation to the future of tech. These six subjects are essential - and dependent on each other - for creating the next great breakthrough in the technology of our automated futures. In fact, we find celebrating robotics and art with traditional STEM so essential that Tethys is named after Titan goddess of streams in Greek mythology. With our focus on furthering diversity and equality in STREAM careers, it is no coincidence that Tethys is a goddess, either.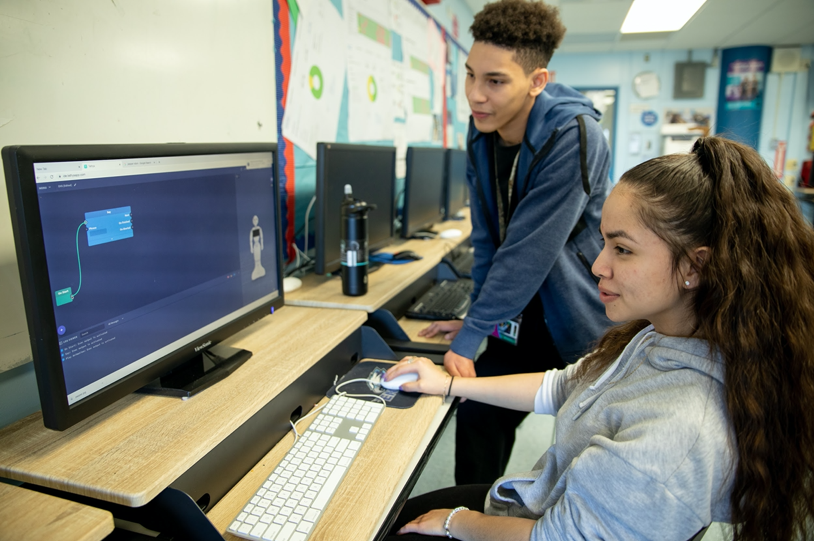 As part of our announcement, I want to share some insights from our pilot schools:
When we visited The English High School in Boston recently, teacher Howard Horner said this about Tethys and Pepper: "My seniors who have been using Pepper for two years already see the next steps and opportunities in college and in work, and with Tethys I want to continue to expand that engagement and access for more students across the school."
In Pepper's first weeks in the Vancouver-area District 43 schools, teachers across the board have noted the unique and unparalleled amount of sensors, input opportunities, and options to interact with the physical world that Pepper's humanoid form and tablet bring to the classroom.
In San Francisco, Thurgood Marshall Academic High School is the newest school to have Pepper, and the first to start with both Pepper and Tethys simultaneously. Their four robots are generating quite a stir on campus, and students are currently designing chose-your-own-adventure games on Tethys that come to life on Pepper.
We could not have created Tethys without the long-standing partnerships we've formed with the school districts of Boston and San Francisco, the homes of our US offices. Their inspiring work with Pepper and insightful feedback have shaped the very core of Tethys. Coquitlam School District, or D43, is our first international partner, and embraced Pepper and Tethys simultaneously with a humbling enthusiasm. They've helped us perfect our teacher training and curricula plans. We are grateful for all three school districts' understanding and appreciation for our STREAM initiatives.
Our team is thrilled to introduce this milestone in our STREAM education program, and we're already hard at work on new partnerships that we'll announce soon. If you're interested in bringing Tethys to your community, please reach out here.
To learn more, read our press release and visit our website, Twitter, and LinkedIn.