Now more than ever, it's important to address head-on, the misconception that healthcare facility carpets lead to infection control problems. Before the COVID-19 pandemic led to a dramatic spike in questions around how long the coronavirus can live on surfaces, people already harbored suspicions around the role of carpets in spreading disease — despite a lack of evidence that carpet is any more problematic than other healthcare facility's flooring options.
For healthcare facility managers, dispelling this misconception is particularly critical because carpet has a lot to offer, including comfort and some significant cost savings over comparable materials. There are ample reasons to keep using carpet in your waiting areas — and plenty of proactive maintenance tools and strategies available to keep it healthy and clean.
Reasons to use carpets in hospitals and healthcare facilities
Before committing to carpet cleaning, let's review a few of the reasons this healthcare flooring option achieves its ROI, making it worth the time staff spends on proactive maintenance:
Research indicates that clean carpets can play a role in filtering dust and other allergens, as well as some airborne pathogens. The fibers trap these contaminants, thus limiting the spread of these pests. In fact, one square foot of carpeting can trap up to a pound of dirt and dust.


Carpet provides slip resistance for patients and residents with walking challenges. What's more, different textures can potentially help Parkinson's patients and other people with neuromuscular afflictions walk better, and aid stroke victims learning to navigate different types of surface textures.


Carpet creates a homelike feel in waiting rooms and long-term care facilities, improving patient and visitor comfort and reducing stress.


Carpets in high traffic areas can help dampen noise. This makes it an excellent tool to add to your facility's work in improving HCAHPS scores around noise, the leading patient complaint.


Patterns that can be easily created in carpeting tiles can aid in orientation and "safe wandering

"

among dementia patients and Alzheimer's residents who are prone to wandering as the disease progresses.
Three strategies for extending the life of your healthcare facility carpet
The best way to get the above-mentioned benefits, and to maximize the ROI on your carpet investment, is to have a proactive and solid maintenance plan in place. Proper carpet cleaning is necessary to protect patient health and maintain high air quality throughout your healthcare facility. The following steps can help.
1. Use the right HEPA filtration system
Vacuuming systems should already be using a HEPA filter to capture airborne contaminants smaller than 0.3 microns traveling along your healthcare flooring. EPA reports that HEPA filters can trap up to 99.97% of airborne particles. What's more important to consider is your filter's MERV rating. The MERV (minimum efficiency reporting value) rating determines how small a particle your filter is able to effectively capture. Higher MERV-rated HEPA filters can capture smaller contaminants. Because these highly rated filters are able to capture more particulates than lower rated systems, it's important to either clean or replace these filters more often to keep them working effectively.
2. Increase frequency of carpet cleaning — without burdening staff
For facilities teams already stretched thin, increasing carpet cleaning frequency may not seem feasible. However, many facilities departments are turning to automated carpet sweepers that can be deployed to follow pre-programmed cleaning patterns and move automatically around obstacles such as people. Tools like Whiz, the autonomous vacuum sweeper from Softbank Robotics, also gather data on the cleaning performed that provides proof of its effectiveness.
Automation tools like these, allow janitorial staff to focus on more high-level cleaning and proactive maintenance activities, adding greater value to the facilities department.
Commercial Carpet Cleaning Frequency Chart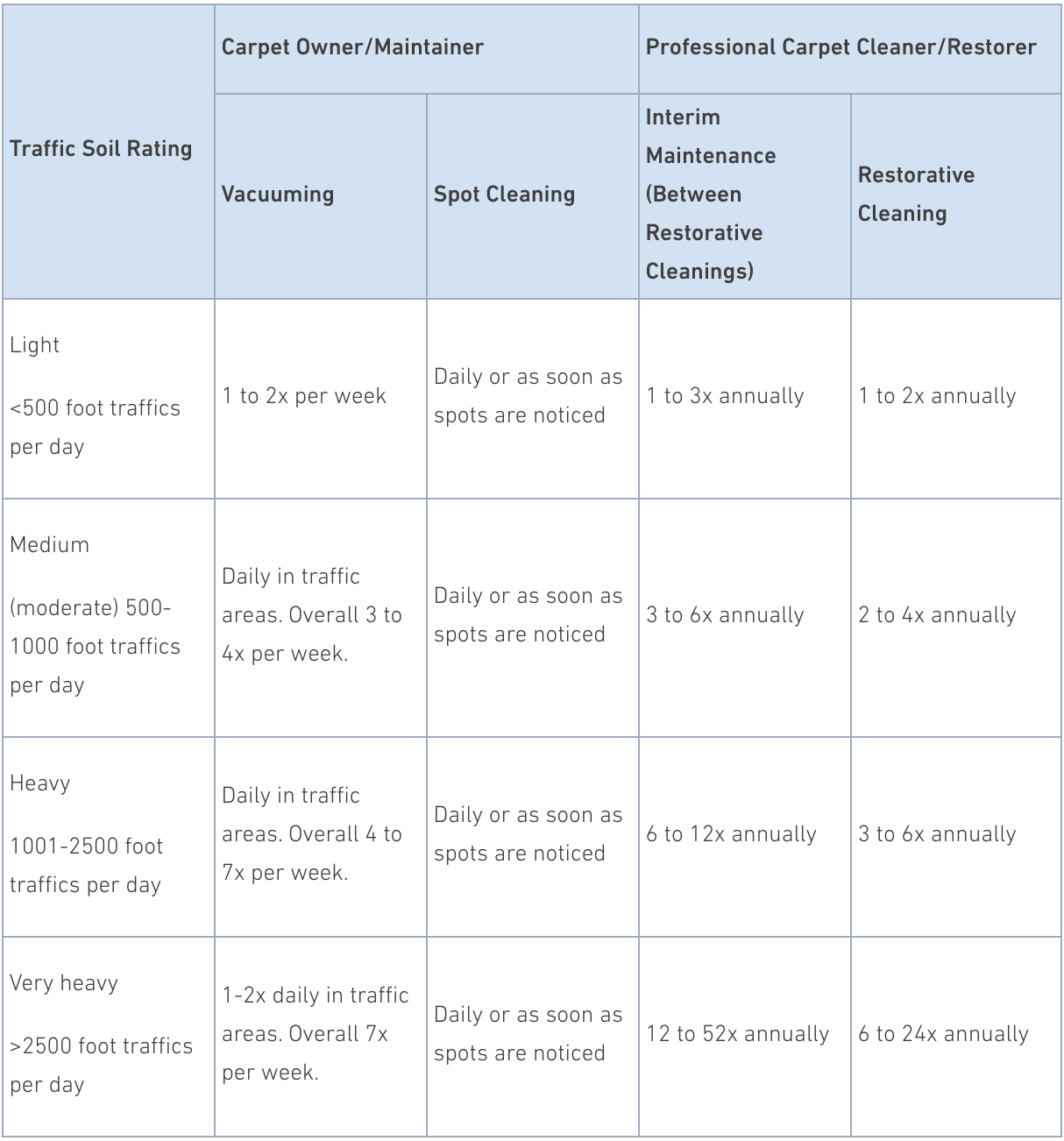 Source:The Institute of Inspection, Cleaning, and Restoration Certification's IICRC S100
3. Make deep cleaning a regular part of your care plan
Depending on the level of foot traffic your carpet sees, you'll likely want to plan for deep cleaning somewhere between one to six months. Dry or hot water extraction can help remove any stuck contaminants and restore carpet to like new performance. Implement your specific carpeting manufacturer's recommendations on suitable cleaning procedures before building this process into your proactive maintenance plan.
Keep your investment fresh longer
With appropriate care, your healthcare flooring investment can provide a solid return by minimizing your replacement costs and potentially improving your patient satisfaction scores. Those cleaning costs don't need to come with an enormous upfront investment either. Some autonomous cleaning solutions like Whiz, the commercial robot vacuum from Softbank Robotics, developed in partnership with Brain OS and ICE Robotics, are available with a subscription model, allowing facility managers to cost-effectively pilot the solution in their buildings.
Discover how Whiz can impact your bottom line.
To learn more about how humans and robots are working together, register for the webinar, 5 Ways Humans and Robots Can Collaborate During Times of Crisis, taking place May 14.