With Whiz you'll get better cleaning quality and improved efficiency while reducing your variable labor costs.
Like nearly all cleaning companies, Sparkle Services struggled with the triple challenge of rising labor costs, decreased worker productivity due to fatigue from repetitive cleaning tasks, and the need to keep workers healthy and safe during the ongoing COVID-19 pandemic.

These burdens became particularly acute as Sparkle Services had to exceed their high-end clientele's expectations for increased cleaning and sanitization during the new normal.

By partnering with SoftBank Robotics and utilizing Whiz to automate certain cleaning tasks, Sparkle Services has quickly and cost-effectively improved cleaning quality and thoroughness while also increasing customer satisfaction.
Since deploying Whiz, Sparkle Services has also been able to:
Regain 7 cleaning hours per day to reallocate to detail-oriented cleaning needs

Recognize a 40% ROI on their Whiz subscription

Boost cleaning crew productivity

Provide a proof of clean to customers
To learn more about how Whiz helped Sparkle Services and how it can help your cleaning business meet the increased demands of the new normal, download the case study by filling out the form above.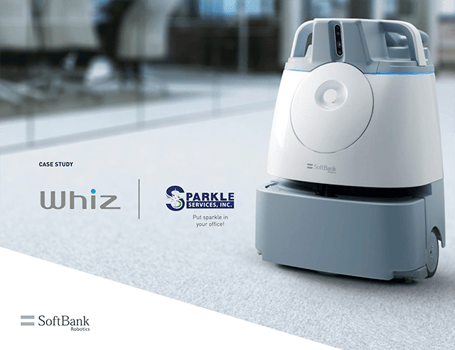 Download the Sparkle Case Study Now.